No Limits to Location Content Access
Gaia is a platform designed for advanced geospatial network and SDI needs. Based on the CarbonTools PRO open-geospatial development toolkit, this viewer can access an array of geospatial sources such as the Open Geospatial Consortium (OGC) Web Mapping Service (WMS), Web Map Tile Service (WMTS), Web Coverage Service (WCS), Web Feature Service (WFS), and Filter Encoding (FE), services such as Microsoft Bing Maps, Yahoo! Maps and OpenStreetMap (OSM), as well as file formats such as ESRI Shapefiles, Google Earth KML/KMZ, DXF, MIF, Geography Markup Language (GML) and GML Simple Features (GMLsf).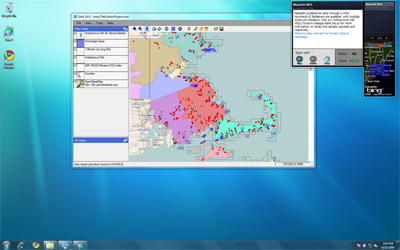 With Gaia you can use geospatial content from different sources and overlay them into a single map view, with each layer individually configured and styled. The Gaia multi-layer view allows seamless use of multiple layers of different types. Panning, zooming and other mapping tools provide a fast and convenient tool for browsing the map. Gaia uses dynamic caching of content to memory, providing enhanced mapping performance.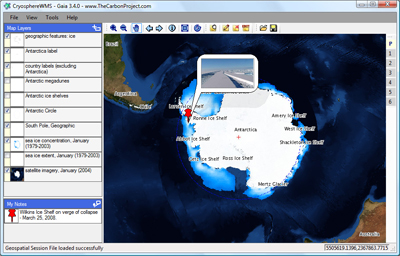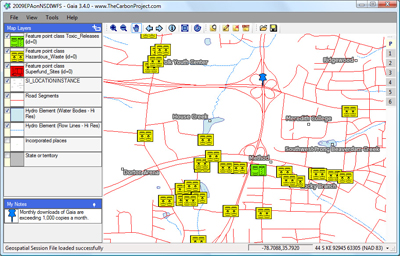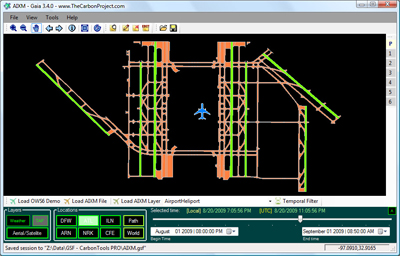 Downloads
Links
Gaia Extenders Catalog
Gaia Video Tutorial
Get the Gaia 3 Source Code!
Learn about Gaia
Learn about CarbonCloud
CEO Blog
The Carbon Project on YouTube
Features
Bing Maps? OpenStreetMap? OGC? Google Earth? No Problem - Gaia 3 lets you use the location content you want. Bing Maps, Yahoo! Maps, OpenStreetMap, KML/KMZ, OGC GML, WMS, WMTS, WFS and WCS, ESRI Shape, Autodesk and MapInfo formats and more are all supported.
ESRI ArcGIS Server 9.3 - Gaia supports ESRI ArcGIS Server 9.3 WFS, including feature transactions with the Gaia WFS-T Extenders.
Includes Open API - Gaia includes an open API to allow developers to modify and enhance the application. The Gaia Extenders API allows programmers to develop enhancements to Gaia with or without CarbonTools PRO. Extenders are recognized and used by Gaia automatically, no installation necessary.
SDI and Mapping Extenders - A suite of Gaia Extenders is available now from The Carbon Project for a variety of geospatial tasks. Some are totally free!
Create and share your Notes - Gaia 3 lets you create and customize your own geospatial Notes with text and pictures. You can even use geotagged pictures in your Notes.
Make your own map symbols - Gaia 3 makes it easy to create meaningful maps, and includes tools to create your own map symbols. Gaia 3 also includes some of the most powerful GML symbology currently available.
Save your work offline and share your maps - Once you've created your multi-layer map and Notes you can save your work as geospatial session files (GSFs) and go 'offline' with all types of location content - you can even share them with your colleagues and friends.
Security and proxy tools - Gaia 3 supports proxy configurations and password protected OGC services.
Linux? Mac OS? - Gaia 3 is now available for the Mono framework and can run on any compliant Linux and Mac OS platforms.
And more...